A-Series (Small Character - Continuous)
In conjunction with Domino's wide range of inks the A-Series prints onto a variety of substrates including food, glass, plastic, metal, rubber and many more. Some features include a self cleaning print head, consistent print quality, and on-the-fly refilling.

A- Series Information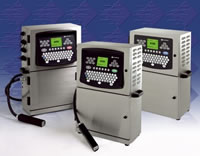 Squid PZ Pilot Ink Jet Printing System

The PZ Pilot prints high resolution small character codes, logos and bar codes on a variety of products at a cost-effective price. PZ Pilot users choose between two models: an oil-based system for printing on porous surfaces, or a solvent-based system for printing on non-porous surfaces. Squid Ink's innovative PZ Pilot is a cost-effective alternative for your small character product marking applications.