Using Möllers Automatic Stretch Hooder Machine in protecting palletized loads using stretch film is a reliable, cost-effective alternative to shrink wrapping. The one piece hood is stretch over the pallet load to tightly secure it, without heat. As a result, you save the cost of energy, and reduce the environmental impact.

Stretch-hooding is preferable to shrink wrapping if you want to avoid the application of heat near your product, or if the pallet load will encounter lower stresses during transport. The stretch hood forms a smooth-surfaced envelope which is dependably watertight, and can also act as a surface for your advertising message.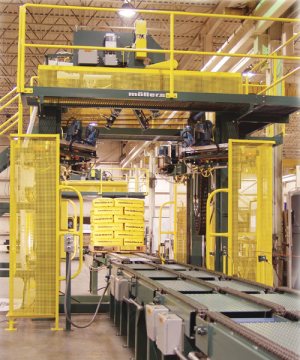 Wraps up to 80 loads per hour - based on load height
Requires no heat source
Tubular film is sealed at the top, forming a hood, to help prevent water damage. Unit can also form sleeve, if desired.
Combines the protection of shrink wrap, with the economy of stretch wrap.
An optional height scanning device selects the required film length, to allow handling of mixed load lengths automatically.